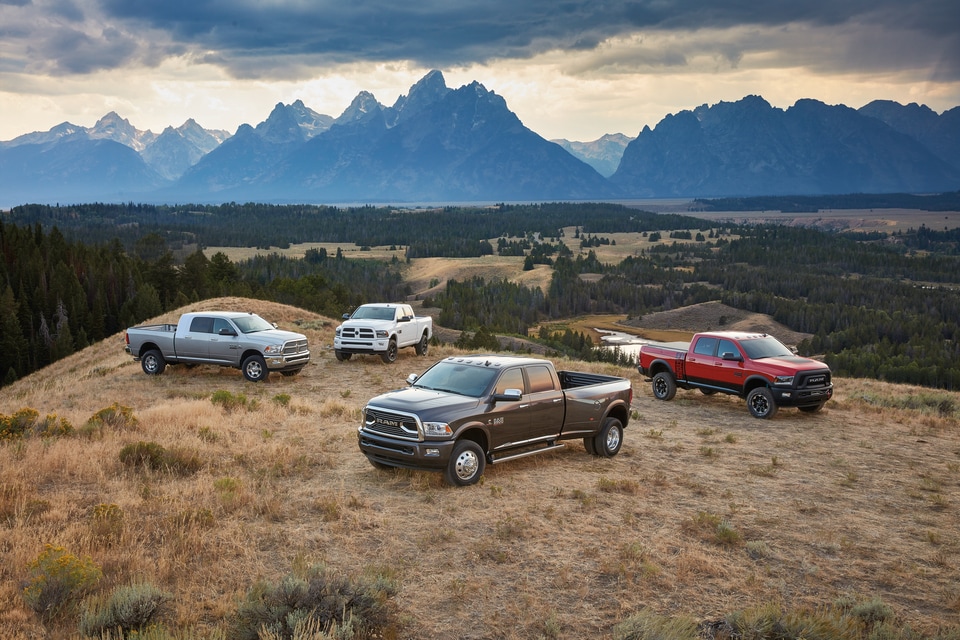 ​
You know you're ready for a new Ram truck. You trust the brand and appreciate the reliability of its vehicles. The only thing you're not sure about is whether to go with the Ram 1500, the Ram 2500, or the Ram 3500.
Whether you put a premium on strength, price, or basic functionality, we've made it easy for you to choose:
Ram 1500 Truck: Get the Job Done
For all the functionality you desire in a truck with a reasonable price tag, consider the Ram 1500.
The 1500 can tow up to 4,826 kg, haul up to 853 kg, and offers Active-Level Four-Corner Suspension for better driving control. This suspension feature maintains a steady headlamp level so that the road is always well-lit even when your truck is using its muscle. It can also raise and lower the truck at 5 different levels depending on your cargo load.
Ram 2500 Truck: Off-Road with Ease
If you're in need of more strength and better off-roading capabilities, you might be interested in the Ram 2500 truck.
The 2500 can tow up to 8,156 kg with the Class V receiver hitch, deliver best-in-class horsepower of 410, and offers Bilstein® gas-charged shocks to make multi-terrain driving seem effortless. You can also expect support from the 3-link front suspension to make driving with heavy payloads over road inconsistencies easier than ever.
Ram 3500 Truck: Smartest and Strongest
The Ram 3500 is the strongest of its siblings in more ways than one:
With towing capacity of up to 13,608 kg, a payload capacity of up to 3,334 kg, and a dual rear-wheel suspension to make hauling smoother, the Ram 3500 is the ultimate power truck in its lineup. You can also expect smart features built into the truck like diesel exhaust brakes that can sense direction of movement, and Ram Active Air technology that can sense external conditions and adjust to protect the engine.
Availability at Glassford Chrysler
All three Ram trucks are impressive in their own right and will make for a trusted next vehicle purchase. If you are still stuck on your decision, call to speak with one of our sales representatives or visit Glassford Chrysler at our Ingersoll lot today.